The finalists for the 2017 Hugo Awards and John W. Campbell Award for Best New Writer, announced by Worldcon 75 on 4 April 2017, are listed on our Hugo finalists page.
The results of the final ballot were announced, and the awards presented, at the Hugo Awards Ceremony at Worldcon 75 in Helsinki, on Friday 11 August 2017.
---
The Hugo Voter Packet
We are deeply appreciative of the publishers, authors, artists, editors, and other creators who have generously provided their works to this year's Hugo Voter Packet, and ask that voters who feel the same way consider posting on social media to thank the publishers, editors, and creators who have participated in the packet. We ask that voters honour publishers' and creators' request that they reserve these copies for their personal use only, and that they do not share these works with non-members of Worldcon 75.
---
What are the Hugo Awards?
The Hugo Awards are the annual awards presented by the World Science Fiction Society (WSFS), honouring the best of science fiction and fantasy, across 15 different categories, from the calendar year prior to that year's World Science Fiction Convention (Worldcon). The Hugo Awards have been presented annually since 1955 and are the most prestigious awards in the genre. The Hugos are voted on by the members of each year's Worldcon and administered by that Worldcon's organising committee. For more information about the history of the Hugo Awards, see www.thehugoawards.org. For more information about the John W. Campbell Award for Best New Writer, see www.writertopia.com/awards/campbell.
Check here to see what is new about the Hugos this year.
---
Categories of Hugo Award
The Hugo Awards are presented in the following categories:
Best Novel
Best Novella
Best Novelette
Best Short Story
Best Related Work
Best Graphic Story
Best Dramatic Presentation (Long Form)
Best Dramatic Presentation (Short Form)
Best Editor – Short Form
Best Editor – Long Form
Best Professional Artist
Best Semiprozine
Best Fanzine
Best Fancast
Best Fan Writer
Best Fan Artist
Additionally, Worldcon 75 will include a special Hugo category for "Best Series" in the 2017 Hugo Awards, with nomination and voting the same as for the permanent categories.
Each Worldcon also administers the John W. Campbell Award for the best new professional science fiction or fantasy writer of the two previous years. For Worldcon 75, this means 2015 and 2016. This award is sponsored by Dell Magazines.
Full definitions of each category are included with the nominating information and actual ballots.
---
Design of the Hugo Award
The Hugo Award's distinctive trophy rocket design has been in place for many years.Each Worldcon committee gets the pleasure of sponsoring the design of the base of that year's Hugo Award, sometimes adding a distinctive local flair to the award.
Image credits: Hugo Award from ConFrancisco, the 51st Worldcon in San Francisco, CA in 1993, photo by Shelia Perry.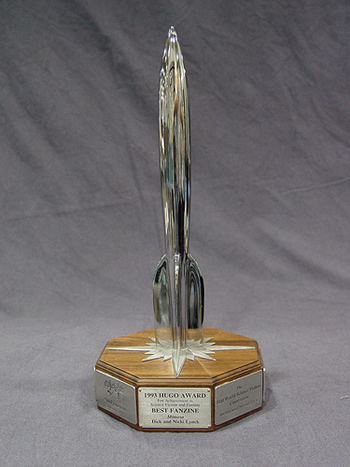 Save
Save
Save
Save
Save